We Build Blockchain Solutions for Start-ups, Businesses, and Enterprises
Leverage the power of decentralization, immutability, transparency, and provenance.
Digital Watch Vault
Luxury Items | Blockchain Technology Platform
INTUiLEAD
Marketing | Email Funnel Platform
VouchXM
Business | Reputation Platform
Contend Zone
Sports Science | Performance Analysis Platform
Chat
Business | Conversational Platform
Drizzle
Business | Engagement Platform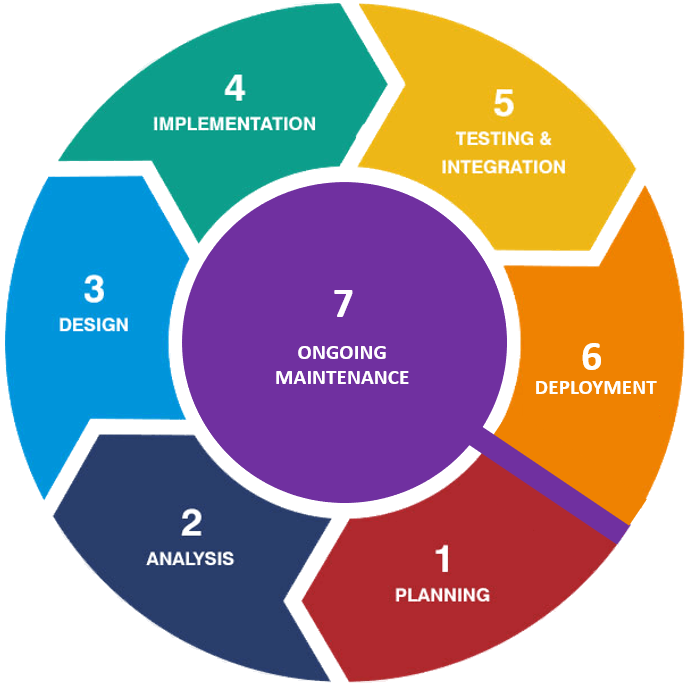 1) Planning – Our Project Manager gathers information about our clients' software vision to determine the scope of the project, resources needed, cost-related issues, phases & timelines, and determining solutions.
2) Analysis – The Project Manager defines the project in a detailed flow chart and creates a feasibility analysis to give both our development team and our client a deeper understanding of the project goals.
3) Design – Our Software Manager builds out the whole structure of the project with a mock-up to show the proof of concept, visually demonstrating the functionality and flow of the software.
4) Development – Our Software Engineers writes the code, ensuring the code meets the software requirement specifications, conforms to the stakeholders' expectations, and converts into actual software.
5) Testing & Integration – Our Quality Assurance Engineers conducts functionality tests, system integrations, and user acceptance to ensure the code is clean and business goals of the solution are met.
6) Deployment – Our Software Engineers follow a step-by-step plan to move the newly built application from development to a live release.
7) Ongoing Maintenance – Our Systems Administrator continues to work with our clients to fine tune, upgrade, and enhance the product based on real-world feedback on its performance.
Best Blockchain Software Development Company
We have two options for providing our services.
New Development Projects
Rather than hiring in-house software engineers, bring us in as your software partner. When you need a partner that will come build your software on-time and on-budget, we're your team! At Touchpoints Technology, we help companies create blockchain software solutions that drives revenue, reduces cost and transforms their business.
Staff Augmentation
Sometimes you might simply need our blockchain developers to fill in the gaps of your projects. It does not matter if you need our team for short-term or long term, we can provide the needed turn around so that your current project can stay on-time and on-budget.