We Help Businesses Increase Their Customer's Average Spend by 300%
Research shows that repeat customers spend 300% more than one-time buyers.
Repeat customers are also more likely to trust your recommendation to buy your more expensive products, services or memberships.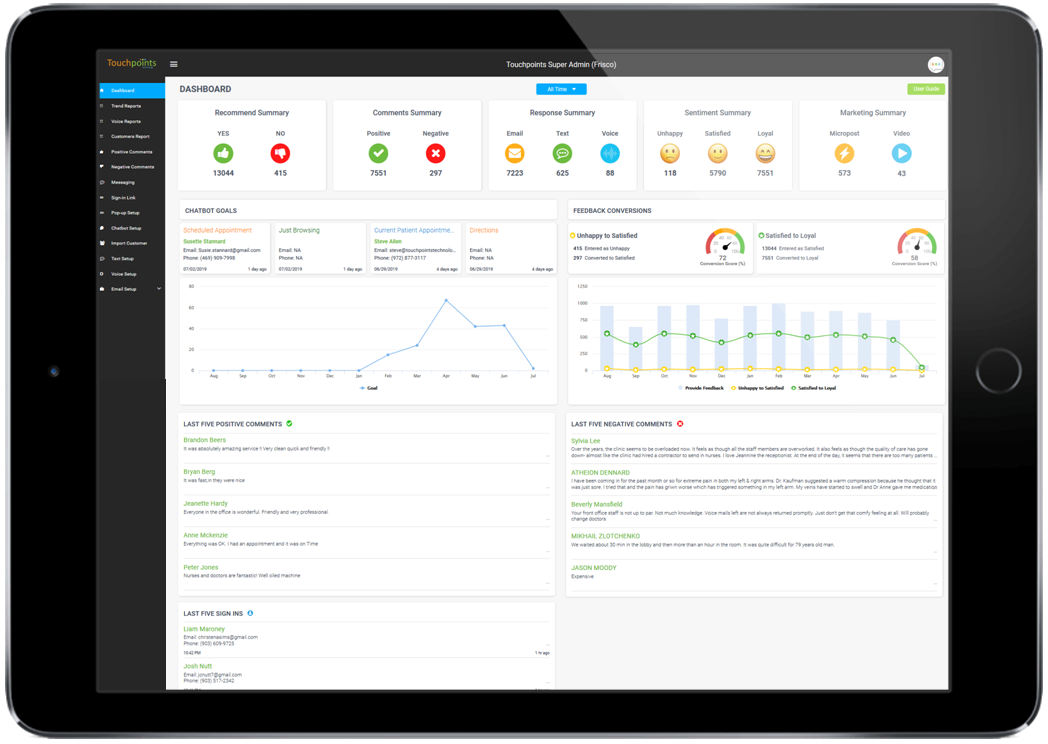 "A must have for all med spa's that want to grow!"
(Mary – med spa owner)
See our Software in Action
Local Businesses Who Use Our Software



Converts Feedback into Satisfied Customers into Repeat Buyers

Feedback Generator
Learn How Your Customers Really Feel
Most franchises don't know how the majority of their customers really feel about them because of the 20% rule.  When asked to go to an online review site to write a review about their experience, close 20% will respond.  So we asked why!  What we uncovered was your customers did not want to go online to tell online strangers about their experience at your business.  It's impersonal.
It's time to be more personal.  If you asked your customer to give you feedback on how you did, closer to 80% will respond.  Why?  Because it's personal and relational.  Our platform captures the sentiment of the 80%, letting you know how your business stands with your customers.
Sentiment Converter
Converts Unhappy Customers to Satisfied and Satisfied to Loyal
Many franchisees have a review system that asks their customers to write a review on a review site.  Only 20% will take the time to write a review and their system stops there.  In order to close the loop you should be sending a response message to the customer thanking them for their time to write a review and acknowledging you read their review.  Most systems require the franchise to manually respond to each review.
Our system combines artificial intelligence, along with proven technologies to automate a series of engaging responses to their feedback so that they feel heard, validated and appreciated.  As a result we convert 91% of your unhappy customers to satisfied; and 88% of your satisfied customers to loyal.
Campaign Sequencer
A Sequence of Automated Messages that Creates Repeat Buyers
If you can get a first-time customer to come back to your business within 30 days, you will convert approximately 60% of them into becoming a repeat customer.  The key is bringing them back.  Our software automates the process of bringing them back to your business by creating a sequence of emails and text messages following their providing feedback.
Our system has gathered feedback from 80% of your customers, converted 91% of your unhappy customers to satisfied, and 88% of your satisfied customers to loyal.  Now we are able to send a sequence of messages that is unique to your satisfied or loyal customers resulting in repeat business.  With our Artificial Intelligence platform, we get the right message to the right customer at the right time.
Why Your Business Needs Repeat Customers
Repeat customers spend 300% more than one-time customers.
They're Easier to Sell to
Repeat customers have a 60% to 70% higher chance of buying again.
Repeat customers refer 50% more than your one-time customers.
I run a busy restaurant and do not have time to connect with my guests once they leave. Touchpoints allows me to interact with my guests and extend their experience beyond the time when they leave our restaurant. This is genius.

Within 30 days we were able to discover where we were falling short with our customer experience, and quickly resolved 90% of the issues with prompt interactions. I highly recommend every business implement the system.

Using technology to create human connections may sound counter-intuitive but that's what today's tech-driven consumers expect!